RESIN POTTING OF ELECTRONIC BOARDS AND CABLES
---
If you are searching for a company specialized in producing and in assembling cables with connectors and electronics boards (PCb) isolated and protected by resin, epoxy and non epoxy, choose TEKNOTEL CABLAGGI S.R.L. and its steril laboratory specialized in processing resins. We ensure to components an high meccanic resistance to shocks, a great thermal resistance and a complete protection against atmosferic and chemical agents.  We have realized resin process of different components (WIRINGS, ASSEMBLED CABLES, ELECTRONIC BOARDS, PRINTED CIRCUIT BOARDS ) for the following markets: – automotive – railway  – aerospace – electromedical – electronic
---
ALUMINIUM AND STEEL MOLDS:  DESIGN AND PRODUCTION
We solve your problems about molds thanks to our trusted suppliers specialized in aluminium and steel turning -boring. You provide us your mould project and data sheet for the resin process to encapsule electronics boards (PCbs) and we provide the finished product.
If necessary,  we can also make our technician avaible to design and develop your mold.
---
ASSEMBLING CABLES WITH CONNECTORS
We are specialized, since over 20 years, in supplying assembled cables, connectors and wirings.
We assembly, on your data-sheet,  every kind of wiring and we are able to find all components you need worldwide.
We have an internal warehouse with different kinds of cables and connectors to respond to urgent request.
---
ASSEMBLING ELECTRONIC BOARDS
We have a stable partnership with important electronic boards assembling (PCB) companies in Europe.
Our european partners, in particular the ones from Swiss and Germany, make us able to meet every needs of yours with an accurate timing. We guarantee our electronic boards the best quality and reliability.
We collaborate only with european partners which have european based production.  
---
CASTING EPOXY RESIN
We have an internal steril laboratory to avoid contamination during the resin casting process.
The streril laboratory is also equipped with an air conditioning system which guarantees the ideal temperature and humidity requested by different kind of resins.
Resin process made in this setting give to electronic boards and wirings a complete insulation and a total protection.
Resin process maintains the electrical and electronic properties of incapsulated components and gives them an high mechanic resistance to shocks, a great thermal resistance and a complete protection against atmospheric and chemical agents.
---
TESTING 
All our wirings and electronic boards are electrically tested before and after the resing potting in our internal laboratory. With our experience, during many years, we have achieved a waste percentage in our workflow of just a 0,3%. This working efficiency allows us to have really competitive assembling prices.
---
SCREENPRINTING
Wirings and resin can be customized with an industrial screenprinting process.
The customization allows to print over components, with long-lasting chemical inks, date of production, batch, item code and corporate logo.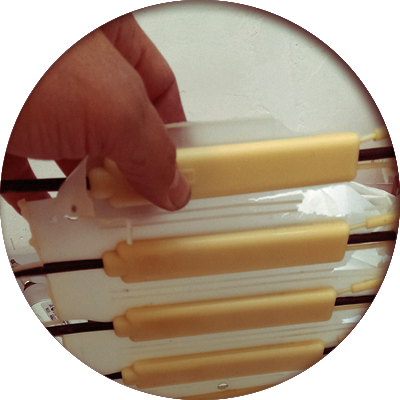 ---
DELIVERY
We work with the best international courier, in particular DHL. We strictly respect delivery times with competitive costs. 

Teknotel Cablaggi S.r.l. is a company specialized, since over 20 years, in assembling cables and wirings.
The company was started in 1993 to produce different kind of assemblings and wirings for automotive, railway and aerospace markets.
Since 3 years ago the company made a special laboratory dedicated to potting resins for cables and electronic boards.
QUALITY CERTIFICATION
TEKNOTEL CABLAGGI S.R.L. has been found conform with ISO 9001:2000 system management standards.
OUR CUSTOMER:
We have worked with international companies, in particular from Switzerland, which have contracts in the railway sector of Japan and North America.
WHERE WE ARE
Our plant is situed in:
Via De Marino Vittorio Trav. San Salvatore 7
81027 – San Felice a Cancello (Caserta)
ITALIA